Using Industrial Ricoh Gen5 heads ,available to suppport 4 levels grey scale printing letting Ink consumption reduce up from 30% to 50% and also achieve most vivid and real imagine colors;
Available for 4 different printing modes: color +white+color +varnish ,which can mostly save the effiency;
Supporting 16 types of different white printing modes,white cover ,white background ,white color etc..And also can print 3 types of special varnish letting the works more personalized;
Wide Application for Glass, Acylic, Wood, Tile, Metal Plate, PVC Board, Floor Plates, Plastic, Stone , Circuit Board etc.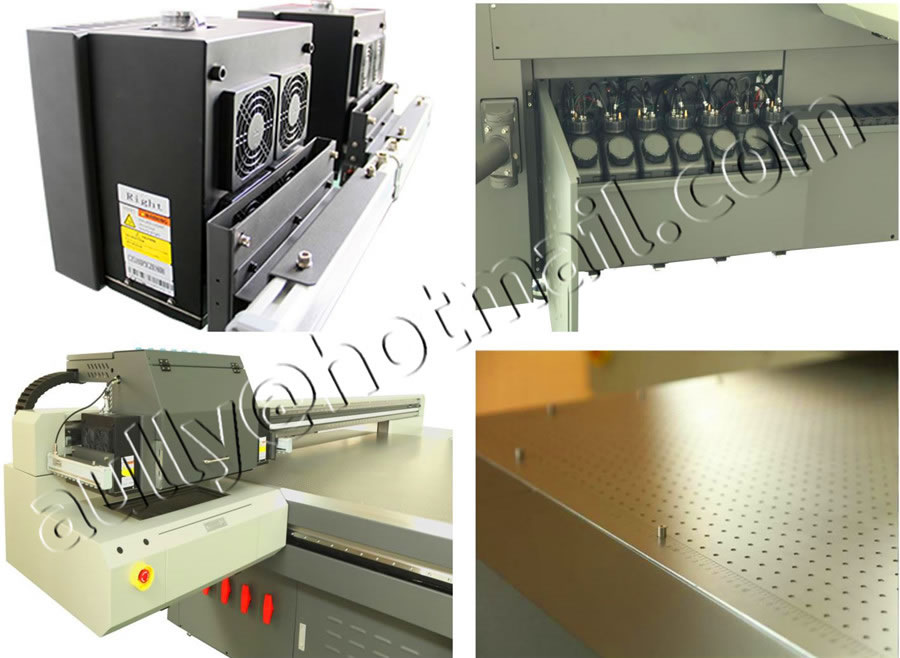 UV2513 UV Industrial Grade UV Flatbed Printer SJ2513UV
PrintHead
Head Type
Ricoh GEN5
Head Number
3/4/5/6/7/8
ink
ink Color
C M Y K or C M Y K Lc Lm+ W
ink Type
UV ink
Print Speed(8 Heads)
58sqm/h 2pass 360*1200dpi
42sqm/h 3pass 360*1800dpi
34sqm/h 4pass 720*1200dpi
26sqm/h 6pass 720*1800dpi
Print Size
2500mm*1250mm
Media Thickness
1-100mm
ink Supply
CISS
Curing System
LED
Software
PhotoPrint 12.0
interface
USB3.0
Operation System
Windows7,windows10
Packing Size /Weight
4.80*2.25*1.50m/1800kgs
Working Environment
temperature:20-28℃
humidity:40%-60%【non-condensing】
Power Supply
50/60Hz 220v>30A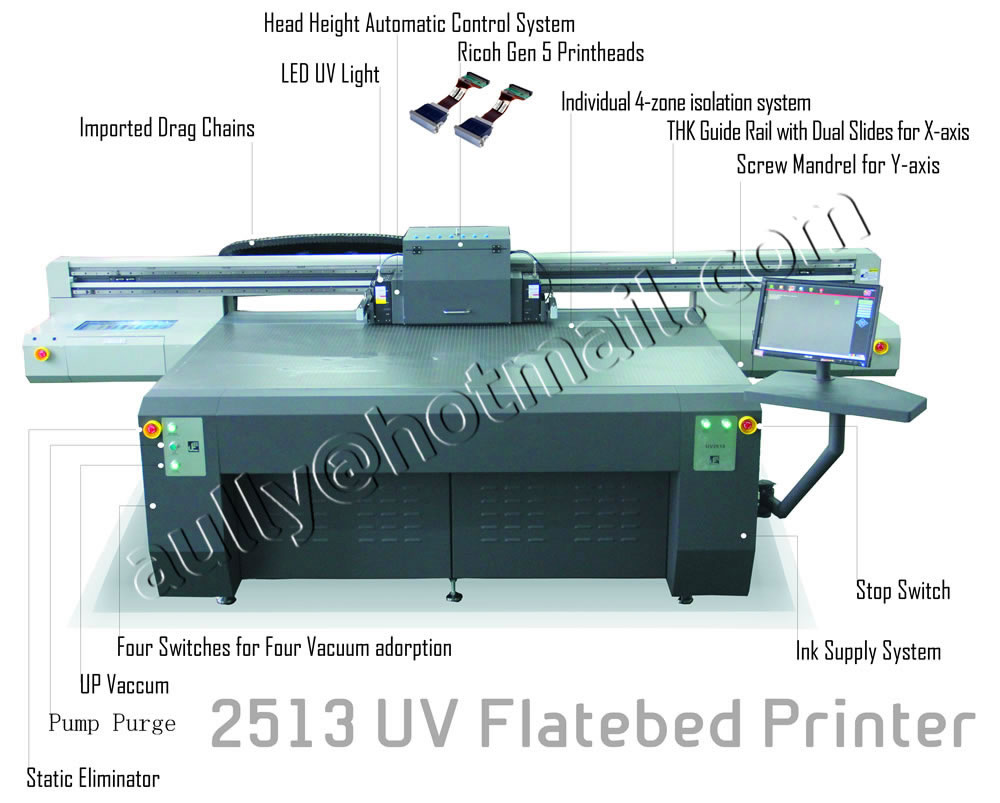 1.Multi-Function Platform Device System

The Platform using the latest Honeycomb design and all-in-one metal platform which the surface use top technique of Brown Hard Anodizing processed, very solid and durable;The tolerance values for platform flatness and parallelism are both controlled within 0.03mm.The platform can bear the maximum weight 50kgs/m2,The strength and area of suction wind can be adjusted easily And also the pin registration matched with scale is for accurate and consistent media placement .For DESIGN and WORKMANSHIP, AllSign always pursues the best!

2.Head Height Autmatic Control System

The optical sensor connected with the control software can measure the thickness of media and adjust the head height automatically ,which can greately improve the printing quality.

The control system uses the full closed-loop way to avoid the damage due to the uncorrect operation.

3.Powerful Ink -Supply System

Automatic mixing function of main ink tank and Automatic circulation function of the sub ink tank can avoid subside of white ink so as to avoid the white ink clogged the heads,which can assure the best printing quality

Full-automatic CISS system can assure the white ink keep fluent printing without stop,and also there is warning system that can remind people to fulfill ink when ink is nearly used out.

Automatic heating system can keep ink at a constant temperature so that make best printing result

4.Curng System

Adopting Advanced technology --cold light source LED Light curing system ,low power,low pollution,long lifespan,low  low-calorie,and with matched stable wind colling system ,curing result can be perfect.

UV lamp power can be set up at the same time ,and can be switched back and forth during bidirectional printing.,which can avoid uneven color This design is designed specially for different material printing .Compared with mercury lamp,LED light wins!

5.Vaccum Adoption Function

Supper power vacuum adorption system can let the material absorbed with the platform firmly especially for easily-distorted and light material.Adopting the Smart converter for controling the material placement more accurately and also can let all kinds of different size of printing media

6.Accurate Driving System

Using the 0.5m America-imported Metal grating which can check and locate with high accuracy.Also equipped with imported DELTA motor ,steel-wire belt and screw drive, to achieve the smooth running speed to eliminate mobile space

7.Precision transmission System

hardness, high precision, high corrosion-resistant steelcross beam Italy imported megadyne Steel PU belt,Imported Delta servo motor ,AllSign implement rigorous quality inspectation for all production procedures.

1.Application for Glass Industry:
Surface of glassware,Table glass, ornamental glass
2.Application for Advertising and Metal Material
Sticker,rewindable metal curtain,metal ceiling,aluminous gusset plate, signage,
3.Application for Decoration
Decorations for door ,door,curtain and bahroom
4.Application for Furniture Industry
Desk and chair cover office screen & partition,Household appliance housing

5.Application for 3C and Crystal
Cover for digital camera ,mobile phone,lap top and crystal,
6.Application for leather
7.Application for stone
8.Application for Tile, Ceramic
9.Application for Panel
10.Organic Glass Absorbs Plastic
11.Others
Cardcase,mouse ,air conditioner ,speaker ,Glass case,faceplate,pad,CD,gridding ,cloth.non-woven fabrics
UV2513 Industrial Grade UV Flatbed Printer SJ2513UV Photos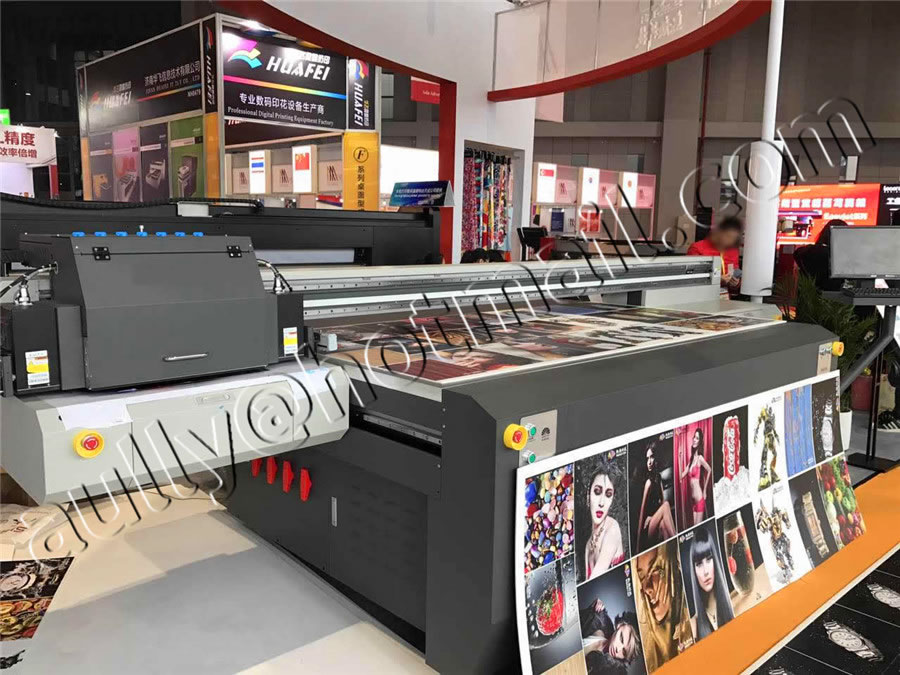 UV2513 Industrial Grade UV Flatbed Printer SJ2513UV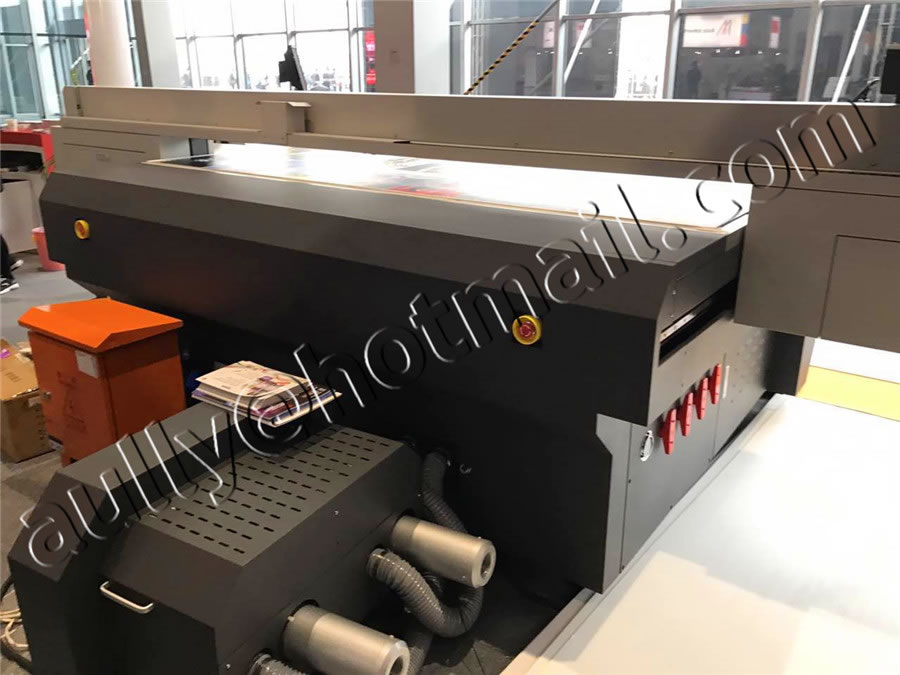 UV2513 Industrial Grade UV Flatbed Printer SJ2513UV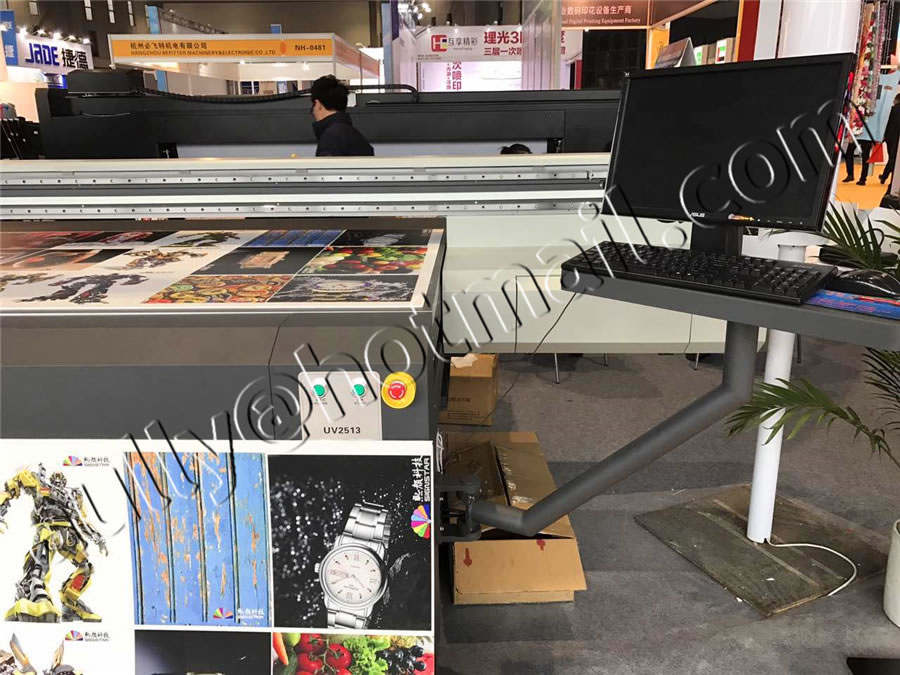 UV2513 Industrial Grade UV Flatbed Printer SJ2513UV
The picture is only for reference,please make the object as the standard.
The Speed data varies in different computer.
Inkjet printer prints with fine ink dots, so the printing colors may be different along with the chnage of printheads. When printing with serveal printers at the same time, a difference in printing colors may exists due to a difference exist in every single printer.
But as far as we know, most for the operation is similar for different printer.