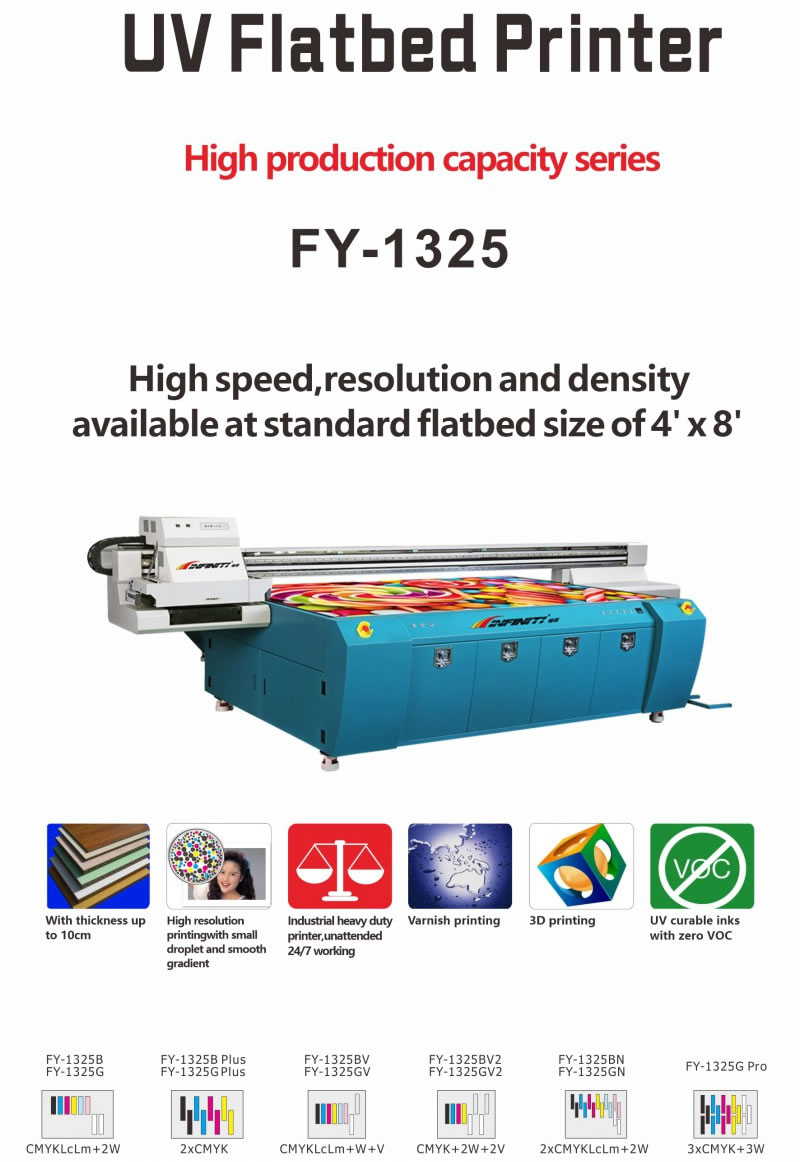 The FY-1325 UV flatbed printing machine adopts industrial piezoelectric print heads each of which has 1020 jet holes. These print heads guarantee reliable machine performance and unrivalled printing quality with lower initial investment. Our product can print various kinds of patterns on media such as wood board, density board, glass, aluminum-plastic panel, metal sheet, PVC expansion sheet, PVC board and acrylic panel. With the advantages of high printing quality and efficiency, this eco-friendly UV flatbed printer can replace traditional screen printing machines to meet people's individualized requirements.
Features
1. The whole UV inkjet printing machine is made of steel and is manufactured with seamless welding technology. Thus the steel frame of our product is not easy to deform and capable of bearing heavy load. The backing steel plate of the working platform has high strength and rigidity.
2. 3kW water-cooling electric spindle, 5.5kW centrifugal vacuum pump and high adhesion vacuum adsorption equipment with capacity of 230m2/h are optional for this UV flatbed printing equipment.
3. Our UV flatbed printer is designed with an advanced transmission mode. The Y axis adopts double screw rods which are durable and can achieve accurate stepping control. The height of the Z axis is adjustable to deal with medium with maximum thickness of 100mm. The X axis is driven by double towing chains.
4. Thanks to the LED UV curing technology, our product has longer service life avoiding frequently replacing.
5. The integrated control software allows RIP operation, printer control and color management to be dealt with simultaneously.
6. The 6+1 color scheme makes for bright color effects and perfect image quality.
Infiniti FY-1325 UV PRINTER

( PIZEO SEIKO SPT1024GS/7pl printheads, High resolution and speed.widely apllication.
Adopts industrial stainless steel piezo print head which has 1024 nozzles each to achieve both high speed and high resolution
Electronic Unit origin in United Kingdom comprises of dual UV lamps and power supply , making the ink fast-solidified.
Integrated design with multiple output power levels , varies from 40 watts/cm to 100 watts/cm, can print according to your requirements, which entirely measure up to industrial standard.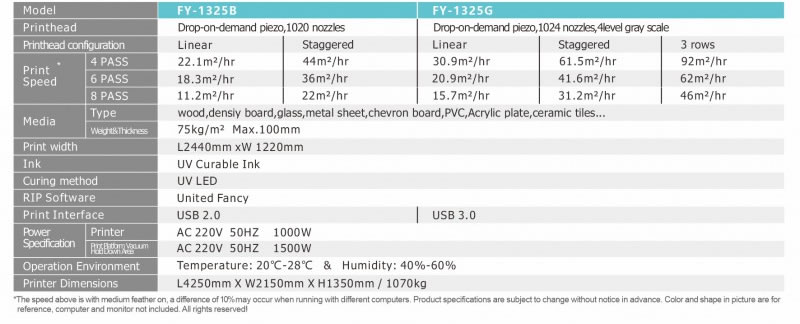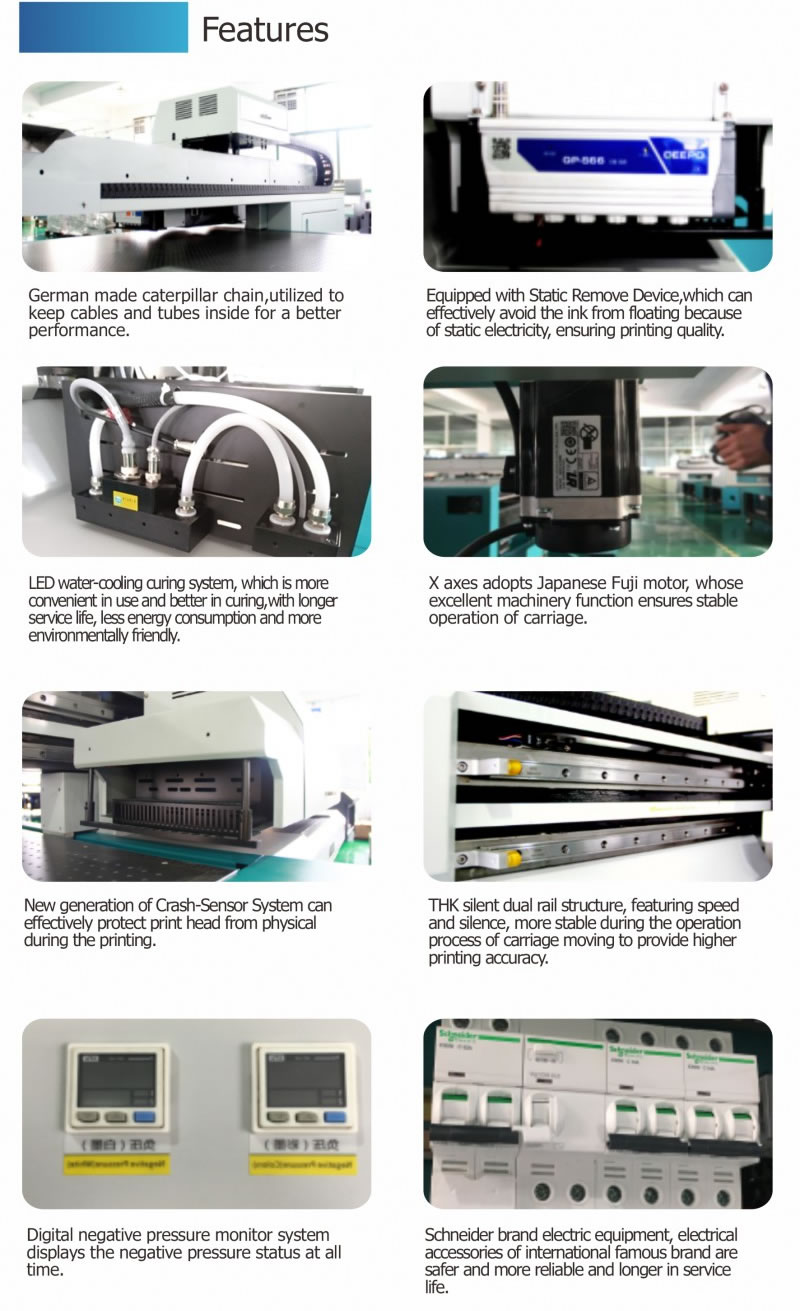 Do you know 1325 UV PRINTER can be used in which industries?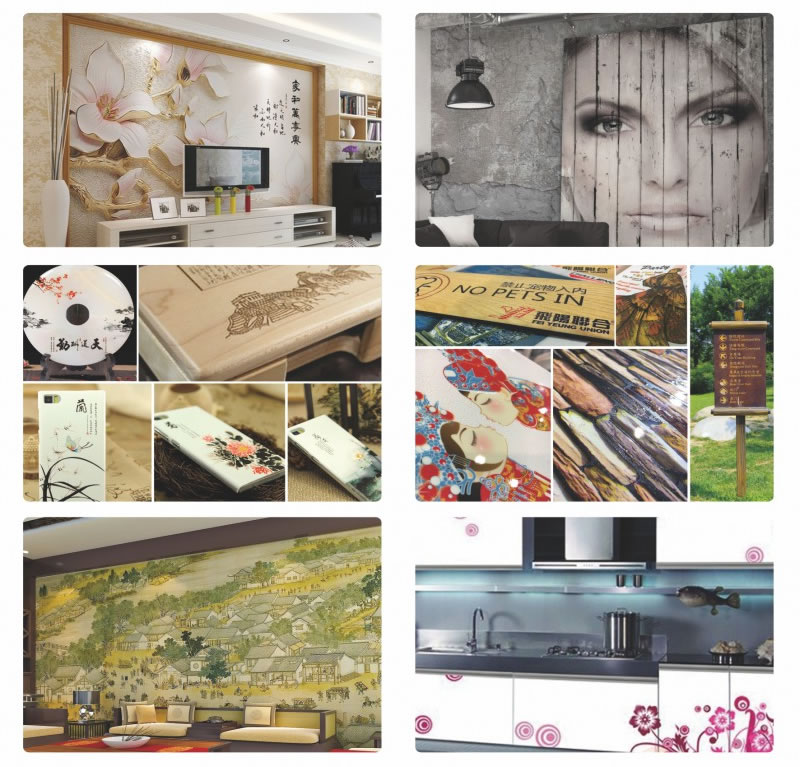 1) Application in construction and decoration industries:
1325AUV Flatbed Printer can print your needed pictures directly on the surface of various materials such as ceiling board,
fire-proof plate, aluminum-plastic board (ACP), density board, stone, ceramic and glass; make your construction and decoration,
both indoor and outdoor, unique, low-carbon and environmentally friendly.
2) Application in mural painting and decorative painting industries:
135AUV Flatbed Printer can print various pictures on the surface of ceramic and wood; meet the indicator requirements
of wear resistance, water-proof and radio resistance; achieve a high-efficient and instant processing progress while suiting the
needs of low-carbon, environmentally friendly and individualized decoration; bring more vibrant and artistic elements to the industry of painting and decoration.
3) Application in advertising and sign industries:
FY-1325A UV Flatbed Printer can print needed adverting patterns directly on the surface of various materials such as KT board,
foamed PVC sheet, plexiglass plate, PVC, PET, ACP, acrylic board, density board and metal board; remain non-degumming,
non-foaming, low-carbon, environmentally friendly, time-saving and high efficient; widely applicable for advertising and sign industries.
The picture is only for reference,please make the object as the standard.
The Speed data varies in different computer.
Inkjet printer prints with fine ink dots, so the printing colors may be different along with the chnage of printheads. When printing with serveal printers at the same time, a difference in printing colors may exists due to a difference exist in every single printer.
But as far as we know, most for the operation is similar for different printer.