Description:
This manual Grommet Machine is smart which is very easy to carry and convenient for shipping. The eyelet punch tool can exchange different die sets (3 different sizes of die set meet customers different requirements). It is very easy to operate because of the simple structure.


• Smart and convenient.
• Interchangeable Dies (#4, #5, #6) to meet different needs.
• Accommodating more material.
• Allowing Grommets to be set further into the material, not just along the edge.
• Can be mounted to a tabletop or stand alone.



This practical die-changeable manual grommet machine is very essential equipment for punching Flex Banner, mesh, ,signs, awnings, posters,digital printing etc.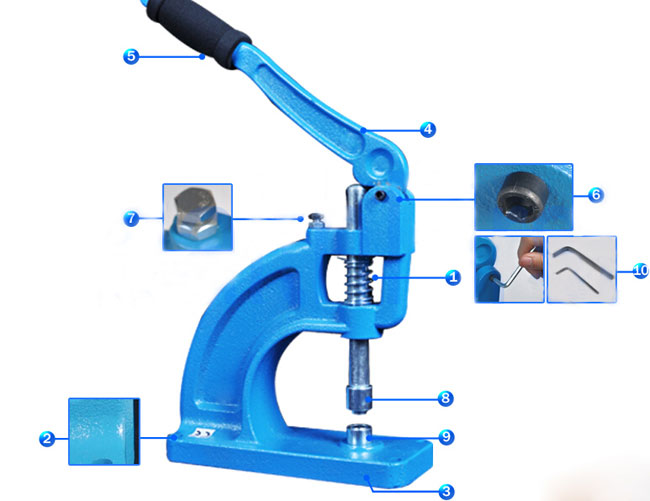 | | |
| --- | --- |
| 1.Main Shaft | 6. Handle Fixed Screw |
| 2.Base Plate Hole | 7.Top Screw |
| 3.Base Plate | 8.Upper Die Set |
| 4.Handle | 9. Down Die Set |
| 5. Rubber Sleeve | 10.Allen Key |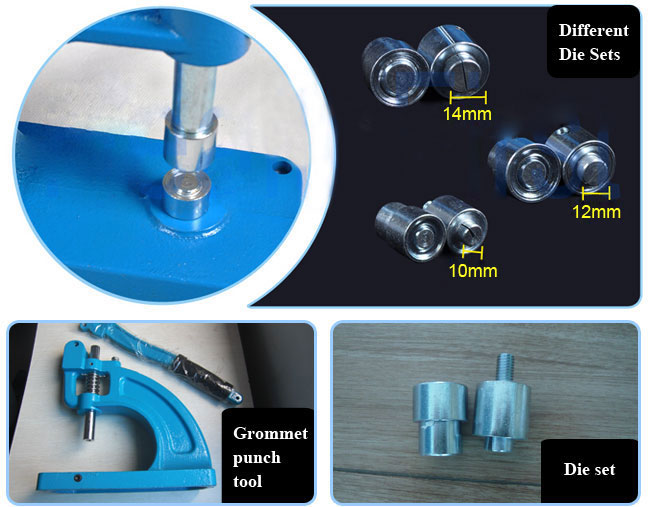 Note:
Available Grommet Sizes (inner diameter, outer diameter, height)
#4(10mm, 19mm, 6mm)
#5(12mm, 22mm, 7mm)
#6(14mm, 23mm, 7mm)

Remarks:
The price we provide above contains one machine and one mold.
If you want get one more mold, you can choose from our related products.


| | |
| --- | --- |
| Heavy duty, it's available for punching more bigger and thicker banners. | Smart and lighter, it's available for smaller banner punching and for small amount of eyelet punching. |

| | |
| --- | --- |
| 3 Die sets interchangeable for customers' different needs. | Only one size of die set which can not change other size die set. |
| | |
| --- | --- |
| Longer handle, that is more powerful and power saving. | One hand can hold and press but for thinner and smaller materials. |

Warm Tips:
1. This manual grommet puncher machine tool is smart and lighter that is specially available for small amount of working (less than 100 eyelets punching per day).
2. If you have a big amount of processing eyelets (more than 100 eyelets), you'd better to choose the compared hand press grommet machine. Meanwhile, the compared manual grommet machine is heavy duty and we recommend you to choose it when you want to punch bigger and thicker banners.
3. Avoid putting grommet where sewing string or other obstructions are located. Grommet may not set completely in these areas.
On foam boards, or boards alike, set the top screw to limit the handle from pressing all the way down. This will prevent crushing of the material (foam board). To set the screw you have to unscrew little by and test it each time until you are satisfied with the grommet setting.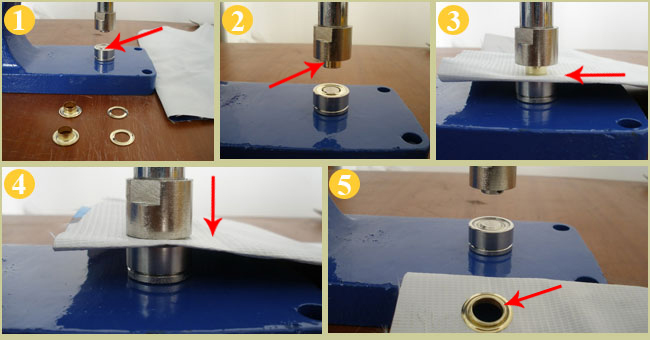 Step 1: Place the washer on the bottom die.
Step 2: Place the grommet on top of the bottom die.
Step 3: Place the material on the bottom die.
Step 4: Depress the handle lightly until the top die is touching the washer.
Step 5: Holding the handle at that level, align the material into position to set the grommet.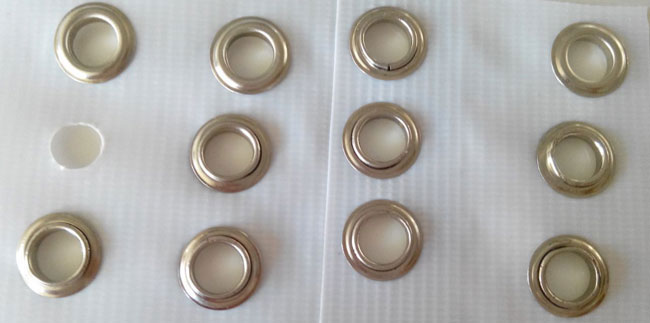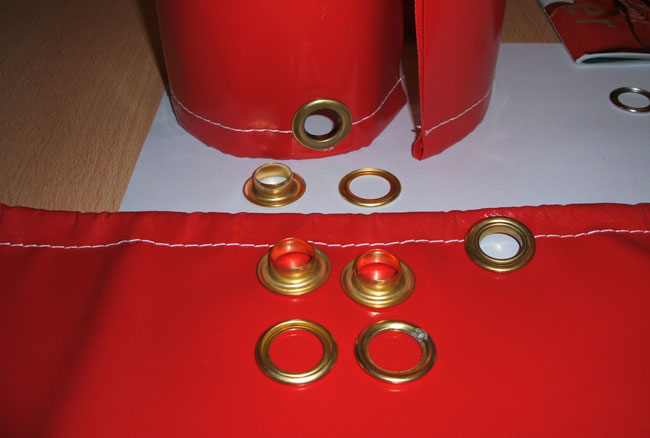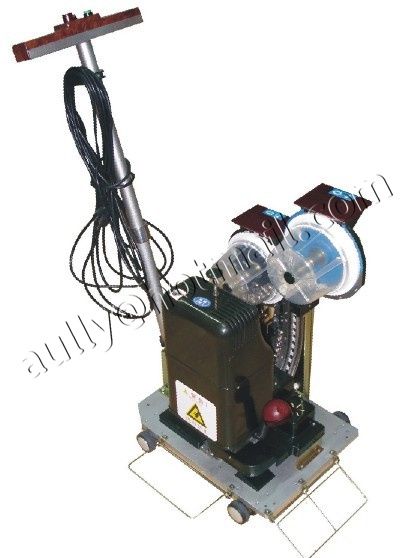 Advantage:
Automatic eyelet machine is a new design. This machine can punch along the media/cloth freely in fast speed, more than 1500pcs eyelet per hour, and very firm. Its pressing plate is designed by project plastic that couldnt get rusted or dirt the picture. It is one of the necessary equipment for inkjet plotting industry/sign market because of labor saving, efficiency and good quality.
Introduction:
Automatic Eyelet machine is controlled by microcomputer. It has high efficiency and saves labor. There are four wheels under the machine so it is very convenient to move. It also can be fixed on worktop if the wheels are removed. Different types of machines could be offered according to different power supply and voltage in different countries and areas.
This machine has 2 sets of keys which have the same function: one is on the handle. This is for working in moving. The other one is on the shell of microcomputer, it is for working when the machine is fixed on worktop. Each one is composed of red button, yellow button and green button. Green button is for feeding, red one is for punching, and the yellow one is resetting. The guiding laser beam on the front part of the machine will illuminates when power is on, two splitting buckets will run and deliver the fabric to slot then the machine is standing by. When the slot is full of fabric, the buckets will stop delivering to save electricity.
This machine is environmental protection and energy saving .It works with electromagnetic power to punch. It only uses electricity in 1% second for each eyelet. It will only consume less than 3 watt when it is standing by. While An ordinary small type punching machine needs the hundreds of electricity to keep the motor continuously working. Comparatively, our machine saves lots of electricity.
Power: 110V / 220V
Net Weight: 35KG
Gross Weight: 55KG
Size: 350mm(L) * 450mm(W) * 650mm(H)
Package Size:550mm(L) * 650mm(W) * 700mm(H)
The picture is only for reference,please make the object as the standard.
The Speed data varies in different computer.
Inkjet printer prints with fine ink dots, so the printing colors may be different along with the chnage of printheads. When printing with serveal printers at the same time, a difference in printing colors may exists due to a difference exist in every single printer.
But as far as we know, most for the operation is similar for different printer.